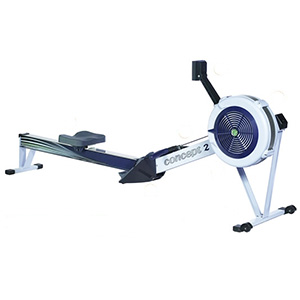 If you've ever been in a gym, the chances are you'll have come across the Commercial Gym Equipment Concept2 Indoor Rower.(MINIMUM order QTY x 5 on all pre owned concept 2 rowers) The best-selling rowing machine in the world, the Indoor Rower can be found in gyms, rowing clubs, schools and Olympic training centres around the world.
It's rare to find an activity that works as many muscle groups through as wide a range of motion as rowing does. Knees, hips, arms and shoulders will each see 90 – 130 degrees of rotation in every stroke, which is more than you'll find in most other aerobic activities. This greater muscle involvement makes rowing a fantastic calorie burner, while also developing flexibility and strength. Rowing is impact-free, and the intensity is completely user-controlled, meaning you can row as hard or as easily as you want, making it suitable for people of all ages and all walks of life. Thousands of customers each month have found rowing to be the best low-impact, full-body workout available.
One of the biggest reasons behind the machine's success is the Performance Monitor. A highly sophisticated piece of equipment, this helps set the Indoor Rower apart from other fitness equipment as it allows you to accurately compare times and distances between different machines and users. Not only does this mean it's possible for you to reliably chart your progress, but it has led directly to the creation of an ntire sport.
Features
Pre-Owned
Aluminium rail capped with a stainless-steel track allows the seat to move smoothly and facilitates full leg involvement in the rowing stroke to provide a true, full-body workout
Ergonomic handle allows for a natural arm and hand position while rowing.
Fan engineered to minimize noise while providing the smooth feel of rowing on the water
Flexfoot footrests adjust for quick and easy sizing.
Spiral damper controls airflow to the flywheel allowing users to choose the feel of a sleek, fast boat or a slow, heavy boat.
Separates easily for storage
Redesigned framelock mechanism makes it easy to separate into two pieces for transport and storage.
Caster wheels make it mobile.
PM3 Performance Monitor
Construction
Frame: extruded aluminium I-beam monorail with stainless steel seat track
Flywheel: The ABS squirrel cage fan is fixed to a steel flywheel. This assembly is fully enclosed.
Monitor: Battery powered LCD display features elapsed time, average pace, meters, calories, stroke rate, watts, preset workouts, projected finish, split memory recall function and optional heart rate monitor interface with other advanced functions
PM3 Features
Automatic operation: Just start to row and the monitor turns on and gives feedback.You don't have to push a single button
Accurate tracking of performance data: distance, speed, pace, calories and watts
Five display options: all data, force curve, rowing with a pace boat, power plot and large print
Removable LogCard stores workout data and personal preferences
Integrated heart rate display if optional Polar receiver is installed (available from Concept2)
Power generation feature draws power from your stroke to extend battery life
Transfer of data to PC or Mac via USB interface
Easy menu-driven operation accesses a powerful list of features.
Row a preset workout or set up a detailed workout of any type
Save your favorite workouts for ease of use
Row against a previous workout performance
Play the FISH GAME for a fun change of pace
Row with an animated rower to help you learn rowing skills.
Review your past workout results
Choose from multiple language options
Dimensions
Assembled Dimensions Length 240 cm
Maximum Width 60 cm
Height 90 cm
Weight 28 kilos
Disassembled Dimensions 90cm x 72cm x 135cm (H)
Questions? Enquiries?
Here are some of our popular links:
dual pulley