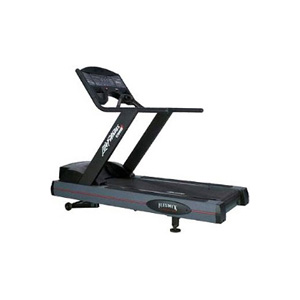 Fitness and Gym Equipment – The life Fitness 9500 treadmill is undoubtedly one of the strongest most reliable treadmills ever made and used in professionals gyms. Life Fitness has built a reputation for being one of the most reliable brands throughout the world. This is a great opportunity to buy an extremely high spec treadmill at a very low price. This treadmill would feature well in a gym or your home.
Next Generation. The most popular choice for all sizes and types of facilities, these treadmills are found in premier fitness centres around the world. Maintenance is a cinch with Rapid Works™ service enhancements and patented Everwax™ automatic wax lubrication system. It features Flex Deck® shock absorption system, and its wide running surface is suitable and comfortable for most users. Standard is the, Lifepulse™ heart rate monitoring system with hand-touch sensors in the Ergo™ bar and Polar® telemetry system. Its features are endless, with a remarkable ease of use. This fully featured tread is the top choice in top facilities.
Features
Speed: 0.5-12 mph in 0.1 increments
Incline: 0 to 15% Motor: 4.0hp
Pre-Owned
Direct drive continuous duty-AC
Voltage Options: 240 Volt
Programs: 6 various & Manual mode
Heart Rate: Lifepulse™ Heart Rate & Polar® Telemetry Heart Rate
L 70" x W35.5" x H51.3" Overall Weight: 400 lbs power
Questions? Enquiries?
Here are some of our popular links:
dual pulley