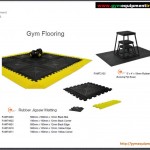 G.E.I Supply A full range of Rubber Flooring and Matting, from high density rubber thick 22mm free weight matting to thin 10mm fleck flooring. quality can vary depending on your budget, however we can provide you with physical samples of the full selection on offer before your purchase. See Some of our sample pics by clicking read more or Please send us an email or fill out a form by pressing click here button. or ZOOM in by clicking picture.
PLEASE FILL OUT CONTACT FORM
OR

EMAIL info@gymequipmentireland.ie
OR

CALL US ON 01 4130678
Questions? Enquiries?