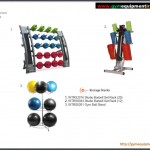 G.E.I Supply A full range of Studio Equipment, from Bodypump sets, studio weights and bars to fit balls and racks. bodypump plates and bars can come in a range of colours and materials. the storage racks for studio bars and plates can come with our without wheels if your studio is used for other classes. Please send us an email or fill out a form by pressing click here button. or ZOOM in by clicking picture.
PLEASE FILL OUT CONTACT FORM
OR

EMAIL info@gymequipmentireland.ie
OR

CALL US ON 01 4130678
Questions? Enquiries?