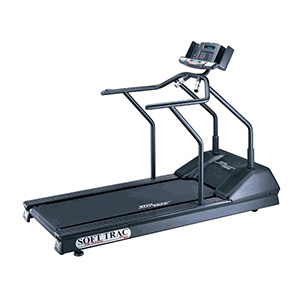 Once you see the 4500 you'll understand its appeal. The patented Sport Utility Display gives precise readouts of time, distance, speed, incline, calories, laps, pace and heart rate. It features everything from a Quick Start button, allowing you to adjust program speed and incline with a single touch, to hundreds of pre-programmed training selections. All the while leaving room for a water bottle, personal stereo, towel and reading material. These pre-owned treadmills are great value at such a bargain price.
Features
Length: 81″ (206 cm) Width: 33″ (84 cm) Height 57″ (145cm) Weight: 284lbs. (129 kg.)
User-Weight Capacity: 350 lbs (159 kg)
User-friendly Quick Start feature plus 10 pre-set programs including ACSM WalkFit Test. Personal Trainer StudioTM to create and save custom programs.
Convenient holders to keep towels, water bottles and personal stereos in place.
Patented Impact Absorption System® features dual-cavity, high-density neoprene cushions along both sides of the deck. Cushions impact on the ankles, knees, hips and back for a lower-impact workout and hushed stride.
Two easy-to-reach stop keys, including one on the console and an emergency stop button on the handrail.
All Star Trac treadmills have a "soft start at zero" feature so the treadmill starts at 0 mph and gradually increases to 0.5 mph.
Clearly marked logo on the belt makes its motion easily detectable. Low step-up height. Standard full length hand rails.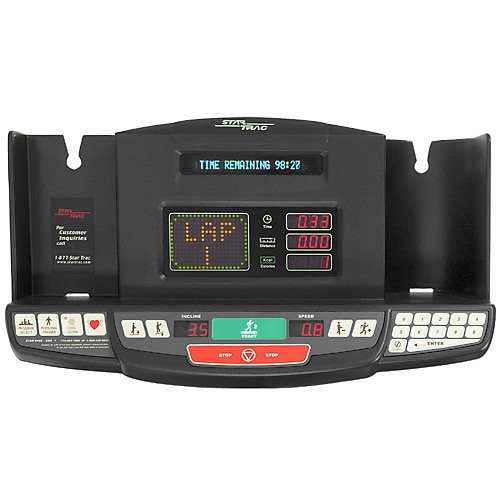 Specification
Pre-Owned
Running Surface: 20″ x 62″ (51 x 158 cm)
Speed Range: 0.5 to 10 mph (0.8 to 16 km/h) in 0.1 mph (0.1 km/h) increments. 0.5 to 12 mph (0.8 to 20 km/h) with 220 volt
Incline Range: 0 to 15% in 0.5% increments
Suspension: Patented Impact Absorption System® utilizing a dual-cavity neoprene surface along both sides of the deck Deck System:
Reversible 1″ (2.5 cm) wax-treated composite fiberboard Rollers: 3″ (7.6 cm) crowned with sealed bearings
Black or Gray Readouts: Time, distance, speed, calories (total and per hour), laps, pace, incline, heart rate, track/program profile Personal Trainer StudioTM: 50 user ID's available, 5 customized trainer programs, ACSM WalkFit Test Standard Features: FitLinxx® certified, Cardio Theater® and BroadcastVisionTM ready Options: Contact Heart Rate System, Dynamic Heart Rate ControlTM with Polar®
Telemetry Step-up Height: 7″ (17.8 cm) Frame: Custom aluminum unifram
Questions? Enquiries?