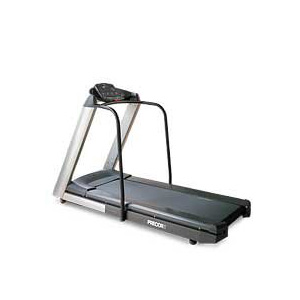 Precor 956 Treadmill – The Precor 956 treadmill is built to withstand the most rigorous commercial environments and is one of the smoothest treadmills on the market. The Precor 956 treadmill has Smart Rate Polar Heart Rate and Touch Heart Rate which enables all types of target heart rate cardio workouts and a variety of programmed workouts.
The Ground Effects Cushion Deck creates a smooth, cushiony walking and running surface. Other features include hand rails, water bottle holder, touch sensitive display and 21 programs make this refurbished treadmill a definite winner! Purchasing used exercise equippment is a great way to get the same quality, high-end fitness equipment that fitness centers use at a fraction of the cost. You cannot go wrong with a Precor treadmill purchase.
Features
Pre-Owned
Heavy Duty Construction
3.2hp Motor
0.5-12mph
0-15% Elevation
Heart Rate Telemetry
Contact Heart Rate
Reversible Deck
Smartrate
Quickstart
Touch Sensitive Display
21 Programs
Ground Effects Cushion Deck
User Weight Capacity: 400 lbs.
Weight: 365 lbs.
Dimensions: 86″ x 37″ x 57″
Questions? Enquiries?