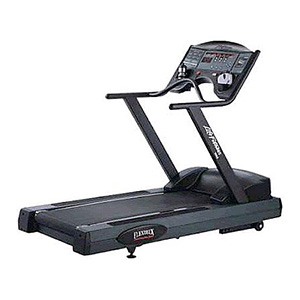 The Life Fitness Treadmill 9500 Next Generation Remanufactured Treadmill features convenient storage and reading rack, patented Life fitness FlexDeck shock absorption system, quick start, CSAFE ready Floor Saver pivoting rear legs, automatic cool down, and polar telemetry heart rate monitoring system.
Life Fitness Treadmill Features
Convenient storage and reading rack
Life fitness Patented FlexDeck shock absorption system
Quick start and CSAFE ready Floor Saver pivoting rear legs
Automatic cool down
Polar telemetry heart rate monitoring system
4.0 hp Motor
Grade: Commercial Life fitness Treadmill
Type: Motorized
Footprint: 85.00 x 37.00 in
Folds: Non-folding
Max User Weight: 350.00 lbs
Horsepowers: 4 hp
Min Speeds: 0.5 mph
Max Speeds: 12 mph
Belt Size: 20.00 x 60.00 in
Belt Thickness: not available
Max Inclines: 15% Grade
Incline Adjustment: Computer – push button
Life fitness Workout Programming: Pre-set programs
Number of Programs: 6 Programs – Fat burn, Cardio, Hill, Random, Manual, Fit Test, Quick Start feature
Heart Rate Monitorings: Supports Wireless or Ear-clip
Heart Rate Control Programmings: No
Console Readout: Speed, Distance, Time
Power Source: 110 V (Normal household plug)
Certifications: CSAFE-ready
Convenience Features: Convenient storage, Reading rack
Colors: Black
Deck: Patented flex deck shock absorption system
Deck Cushioning: Shock absorption
Your Goals: Commercial, Incline Treadmills, Running
Package Dimensions: 89 x 38 x 29 in (420 lbs)
Product Dimensions: 85 x 37 x in (380 lbs)
Questions? Enquiries?