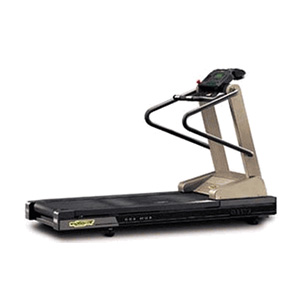 The Technogym Run XT is what more and more people want to enjoy walking and running on because it is in the most natural way possible. Exercising their heart and burning off excess fat on this silent, strong and powerful Run XT is set to become one of the most popular past times in gyms today.
This treadmill is sure to become the most sought after piece of fitness equipment in fitness clubs, purely because it satisfies this desire while offering much more. A wide choice of different exercise modes is easily selected from several courses stored in its programming memory. The consol features easy to use push buttons for selecting the speed and desired gradient. A running shock-absorbing platform protects the knee and ankle joints and in addition it also features the exclusive CPR System to ensure that the training level is continually adapted to the pre-set heart rate (not available on this model) values. A powerful and reliable AC motor ensures trouble free durability and smooth operation under the most severe usage.
Features
Easy to use console
Shock absorbing platform
CPR system
Hand held heart rate monitor
Max speed 16KMPH
Various pre designed programmes
Dimensions L x W x H 49″ x 21″ x 57″
Pre-Owned
Dimensions
Max User Weight: 400lbs.
Unit Weight: 440lbs.
Shipping Weight: 485lbs.
Shipping Dimensions: 89″ x 38″ x 29″
Questions? Enquiries?