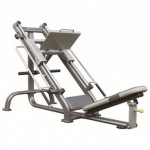 This Zenith 45 degree Leg press is a full commercial 45 degree Leg press. It is very well made and finished. It is far superior and more heavy duty than most of the welded leg press machines I have seen in Ireland. Most bodybuilding clubs lately are opting for the welded custom order machines without giving the machine factory made machines a chance. We would highly recommend you see this Zenith machine first before opting for the custom made leg machines. You will not be disappointed!

more key benefits
adjustable seat
excellent finish
new zenith range
heavy duty leg machine
2 years commercial warranty
dimensions
Questions? Enquiries?