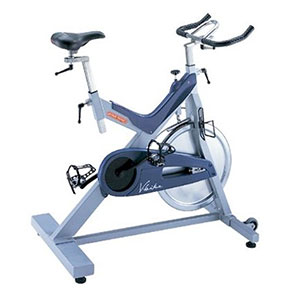 The Star Trac V-Bike provides a smooth, efficient pedal stroke and incomparable comfort. Every rider is ensured a perfect fit thanks to its micro-adjustable handlebars and seat- including women with short torsos and men who tower over six feet.
A better fit means less stress on the knees & lower back and greater efficiency for the rider. The bottom line? No other bike can compare with the V-Bikes style, fit and innovative componentry.
Features
Size and spin rate of the flywheel are calculated to achieve the proper inertia, creating the most realistic cycling feel and minimizing risk of knee damage.
Pre-Owned
Stainless steel components
Heavy duty crank assembly
Serfus™ saddle for riding comfort
Push brake system
Powder coat & plated frame
Kraton grips
Resistance: Friction
Power Requirements: Self Powered
18kg Fixed Flywheel
Weight: 105lbs
Condition: Used in working order
Dimensions: L: 40″ (106cm) W: 24″ (63cm) H: 40″ (103cm)
Questions? Enquiries?