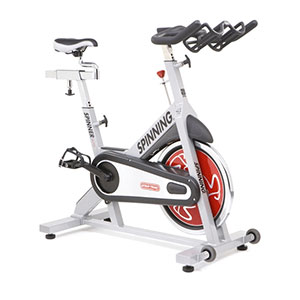 (Refurbished Option, Guide Price €400 – €500)The Spinner Elite Spin Bikes combines user-focused features with a high degree of adjustability to deliver best-in-class performance for riders of all shapes, sizes and abilities. To maintain uncompromising quality ride after ride, the Spinner Elite spin bikes feature an extra durable crank system, rust-defying materials and rock solid construction.
Combine the Spinning ® program and the Spinner Elite Spin Bikes with Star Trac's unsurpassed customer service, support and training, and you'll have all the tools necessary to kick your facility into high gear.
Spin Bike Features
Smart Release™ braking system provides safe dependable performance for unsupervised riders.
Two-piece fender for comprehensive protection of brake and flywheel assembly.
Pop-pin seat slider adjustments deliver a great fit.
Plastic rim on inner radius to protect flywheel from rust and corrosion.
Bottom bracket crank cover, protecting bottom bracket from rust and corrosion.
Push brake safety system brings flywheel to a fast stop with minimal effort.
No-slip grip handlebars offer dual water bottle holders for ultimate functionality and convenience during ride.
Crank assembly with increased strength provides dependable performance for every rider.
Dimensions: 53.9″ l x 20.6″ w x 40″ h (136.9 x 52.3 x 101.6 cm)
Questions? Enquiries?
Keyword – Spinning bikeGym Equipment Ireland Home Page