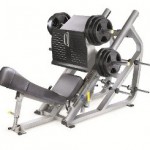 Nautilus XP Load™ Equipment. Overcome the limitations of pure leverage leg press machines with XPLoad™ equipment. The XPLoad™ line of plate-loaded strength equipment successfully bridges the gap between free weights and selectorized fitness areas. Based on Nautilus' state-of-the-art CAD and motion analysis technology, the XPLoad™ line offers uncompromised biomechanics with precision strength curves and a full range of movement for a wide range of body sizes. Professional athletes and novices alike will benefit from the XPLoad™ line and gain unprecedented results from their strength-training workouts.

The Nautilus® XPLoad™ Incline Leg Press takes the conventional 45-degree design to a whole new level with a multi-bar slider crank that controls the position and angle of the foot platform, reducing knee stress and providing maximum hip rotation
The XPLoad™ series features include high-quality-materials, including 2″ x 4″, 11-gauge wall mainframe tubing for impressive aesthetics and structural integrity, as well as rotating components with high-precision, sealed for life, deep-groove bearings and self-lubricating ball joints that ensure low maintenance and high quality. You'll appreciate low-to-ground loading points for easy, convenienet and safe loading, and tilt-and-glide adjustable seats with high-resolution positioning and high-grade upholstery pads. The XPLoad™ machines also include removable weight storage horns that provide substantial weight plate storage on the machine.
Key features of Nautilus® XPLoad™ fitness equipment:
Four-bar linkage technology provides accurate strength curves for both single- and compound-joint movement exercises to provide an unparalleled full-range workout.
Low-to-ground points of loading enable convenient, safe and simple resistance changes.
 XPLoad™ equipment maximizes floor space by providing on-board plate storage and keeping the travel of weight-arms within the equipment footprint.
Questions? Enquiries?