Pre-Owned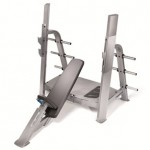 Incline bench press by Nautilus is truly outstanding. If you have seen a better Olympic Incline bench press anywhere please let us know! (we have NOT!!) Ratcheting seat adjustment for ease of use and solid feel with a 35° incline seat and Back pad tapers to 10″ wide at the chest – Includes integrated spotters platform.  Weight lifted up to 700 pounds! With over 600 pounds of plate storage! The brushed chrome-plated (5/16″ thick) bar holders contain two catch positions, and accommodate Olympic bars. The vertical bar catches for easier racking.

The Nautilus® Commercial Free Weight line uses 11-gauge steel frame tubes to incorporate a new, softer curved profile for a strong, modern look. Pivot points use durable bronze bushings, along with a 3-point base design which results in a self-leveling bench. Nautilus Olympic Incline bench press now for sale in Ireland
Specifications
Height 64″/162.6 cm
Length 81″/207.7 cm
Width 69″/175.3 cm
Machine Weight 355.3 lbs/161.2 kg

Twelve years Warranty

– Frames, welded moving parts and weight stacks.
Questions? Enquiries?