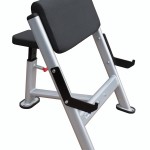 G.E.I provide a Selection of Preacher Curl Benches , from a cost effective Light Commercial PCB to a Full commercial top branded product, this picture provided is for illustration purpose, we have a Number of Preacher curl benches available in different designs and colour, we offer colour coded upholstery and Powder coating to suit your gym Or club corporate Colours.

PLEASE FILL OUT CONTACT FORM
OR

EMAIL info@gymequipmentireland.ie
OR

CALL US ON 01 4130678
Questions? Enquiries?