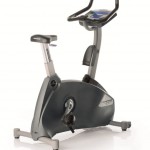 This Pre-Owned Exercise Bike from Nautilus is an excellent investment addition to your gym or fitness facilty. Nautilus is the longest running gym equipment on the planet. This commercial exercise bike is extremely reliable with sophisticated design, comfortable ride and superior performance. Nautilus assembled a team of cyclists and trainers to help push the envelope on performance and comfort while redesigning the exercise bike experience. The seat is wide towards the back to provide maximum user comfort while seated in a more upright position, while tapering towards the front to allow for a more performance enhanced "real bike feel" while the rider is in a more bent forward position.
Users will now look forward to a highly effective, yet comfortable cycling workout experience
Nautilus Exercise Bike Features
Cordless or Power Cord (both options available)

Ergo Bars enable multiple riding positions

Ratchet footstraps for easy fitting

Pop Pin free seat adjustment for ease of use and durability

Heart rate sensors and wireless telemetry

Similar cardio consoles to all nautilus cardio range

LCD Display

8 Pre Programmed workouts

Optional integrated entertainment screens or netplus
Specifications and Warranty
45″L x 24″W x 57″H

Frame/Motor: 15 years, Parts:3 years, Wear Items/labour: 1 year
Questions? Enquiries?