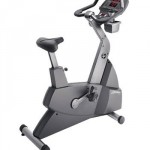 (Refurbished Price Guide €800 – €1200) This Lifecycle 95Ci is the lastest to hit the gyms and has the Comfort Curve Plus™ ergonomic seat with 27 seat height adjustments, 11 Wide Ride™ pedal adjustments, side and front handlebars and a dual-level alphanumeric LED console. Life fitness gym Equipment is attractive, easy to use and simple to maintain. And because they carry the Life Fitness name—and the quality and appeal that represents—they are a great foundation for many fitness facilities in Ireland and throughout the World.
Features
Maximum User Weight 400 lbs (181 kg)
Resistance 500 watts
Self Powered ****
Auto Start: Brings power to console when user begins pedaling
Length 48″ (122 cm)
Width 24″ (61 cm)
Height 54″ (137 cm)
Unit Weight 107 lbs (49 kg)
Questions? Enquiries?
Page Keywords – life fitness,gym equipment Ireland-Dublin-bike-bikes-gym bikes-used-upright