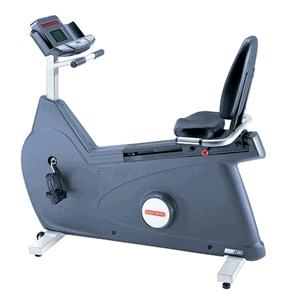 This model offers Star Trac®`s sleek design and styling, coupled with the smooth feel of the belt drive system. It is about as reliable as any of its competitors` offerings, and is as comfortable to own as it is to ride. The contoured backrest set design, offers lumbar support, comfort, and easy leg movement.
With its great graphical display, this bike allows you to choose from a variety of programs, while enabling you to scroll through different performance readouts. As the bike is self-powered, there are no messy cords to deal with, and the bikes own front wheels enable it to be moved quite easily.
Features
Pre-Owned
Drive: Belt Drive
Resistance: 15 Levels
Power Options: Self-powered
Programs: 3 Pre-programmed Courses
Contact Dynamic Heart Rate Control & Polar® Heart Rate
Weight: 140lbs
Dimensions: 56″ (140cm) x 24″ (62cm) x 51″ (130cm)
Questions? Enquiries?
Page keywords
exercise equipment,Star Trac,Fitness Equipment, Gym Equipment, Commercial Gym Equipment,Commercial Fitness Equipment, Fitness,Gym,Commercial,Gym Equipment, Treadmill,Treadmills,Spin Bikes,Gym Bikes,Recline Bikes,Fitness Bike,Commercial Treadmill,Treadmills,Bike, Gym Bikes,bike, Ireland,Used