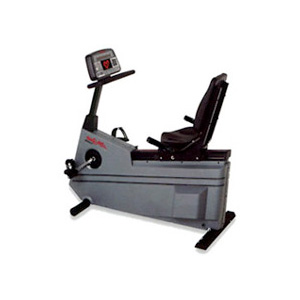 The Life fitness recumbent Lifecycle trainer features a wider, more comfortable seat and a semi-recumbent Bike position that enables blood flow to the heart. This new slant on exercise makes stationary cycling easier for every rider.Top class level of  fitness equipment in Ireland Gyms.
Finally, a means for an effective, motivating and comfortable workout for everyone- a design copied many times by other companies. Ergonomic Life fitness engineering of the 9500r improves on other recumbent Bike designs by positioning the rider's legs slightly below the waist, eliminating potentially troublesome hip and knee hyperextension; prevents unnatural forward and upward pushing sensation. Position eases gravity's effects on heart rate and blood pressure. With less effort, the rider will work out longer and burn up to 15% more calories on average, while benefiting from excellent development of glutoral and quadricep muscles.
Life Fitness Bike Features
The 9500r has a self-regenerating battery, so it requires no external power source, making it very versatile and mobile.
Type:Life Fitness Recumbent Bike
Drive: Chain
Resistance: 12 Levels
Power Options: Self-powered
Programs: 5 Pre-programmed Courses
Heart Rate: Hand held
Pre designed programs, Fat burn, Cardio, Fit test, Hill, Random & Manual
Pre-Owned
User Weight: 400 lbs.
Weight: 127 lbs.
Dimensions: L: 53″ W: 25″ H: 48″ * Handlebars: T-Bar with Grips
Questions? Enquiries?