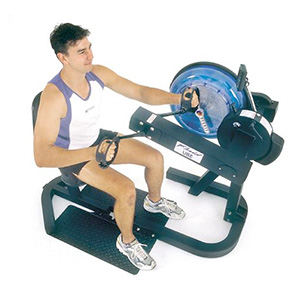 Gym and Fitness Equipment The Professional UBE that operates in both forward & reverse directions for maximum muscle engagement. The E-820 UBE Cycle is instantly adaptable between 3 functions – seated, standing or wheelchair access. Its the top value option of 3 machines in 1. The E-820 is perfect for the professional facility where maximum versatility of equipment is essential and is ideal for group classes and rehabilitation.
Key Features
20 level patented Variable Fluid Resistance
Variable length crank arms – ideal for mechanical/rehab use
Seated, standing or wheelchair access
Operates in forward & reverse directions
Angle adjustable, self levelling hand grips
Main arm adjusts from horizontal to vertical with internal gas-assist mechanism
Interactive Performance Monitor
4 position, horizontal seat adjustment
Contoured "soft touch" seat with lumbar support
Foot rest for added stability
Heart rate reception built in
Compact footprint
Questions? Enquiries?