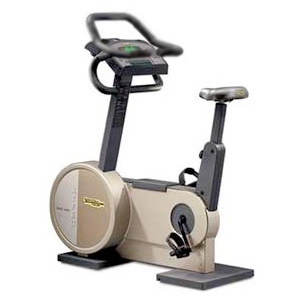 The Technogym Bike XT is the perfect choice as it brings you the full enjoyment of natural pedaling. Technogym smart design saddle position and smooth flowing movement ensure optimal muscle involvement, whilst Technogym new CPR system makes it simple to program the heart rate you want to maintain during exercise.
The Technogym bikes clear, high visibility display screen ensures that the machine's different functions are easily accessible enabling users to train to their full potential. Most important of all, is that Technogym designed every function and has been carefully tailored to meet the needs of thousands of users, ensuring the Technogym Bike XT can create the correct training with optimal programming for every individual, from the professional racer through to the office worker on a weight loss program.
Technogym Bike XT Features
Pre-Owned
Highly reliable, strong & robust
Natural pedalling motion
CPR System-your heart rate controls the resistance
Clear, high visability display screen
Polar Heart rate compatible
Dimensions L1.25m x W 0.53m x H 1.44m Weight 75kg
Pre -owned, fully cleaned and serviced
Questions? Enquiries?
Page keywords
exercise bike,fitness equipment,ireland,gym equipment,Technogym bike
, Technogym Equipment ireland, Technogym Fitness Equipment,
Technogym Ireland,Gym Bike,Fitness Bikes,Gym Equipment,Commercial
Gym Bikes