(Our Refurbished Option GUIDE PRICE €500 – €700)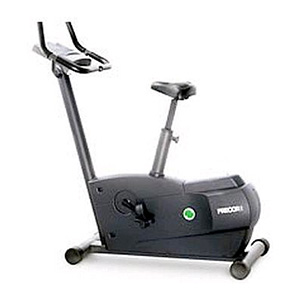 The C846 Upright Cycle is self-powered and cordless with a back-up battery to eliminate downtime. It features a simple, sturdy ergonomic design with a smooth, comfortable motion that fits a wide range of body types. The C846 has 20 resistance settings and uses a magnetic, no-contact alternator resistance system to give a consistently smooth workout.
The use-friendly programmability and electronic displays on the Cycle offer the same easy to follow courses and features that exercisers rely on in all Precor products. The C846 Cycle offers facilities an aesthetically pleasing, consistent look with exceptional performance and dependability.
Features
Steel Frame
Durable and powder-coated, performs solidly and resists rust.
Drive System
Double step-up system creates a smooth, comfortable motion and quiet operation.
20 Resistance Settings
Adjustable Pedals
Fit a wide range of shoe sizes and the low-profile crank arms ensure munrestricted movement.
Handlebar Positioning Accommodate a variety of hand positions. Covered with a sweat-resistant foam padding that stays dry and soft.
Durable Wheels
Cycle can be moved easily across all floor types.
5 Programmed Courses Cross Country, Weight Loss, Interval, Hill and Climb.
Quick Start Key A single key puts exercisers into the manual course.
Telemetry Heart Rate
Questions? Enquiries?
Page keywords
Exercise Bikes,exercise bike,irelandRecumbent Exercise Bike, Ireland,Home Gym
Equipment,Treadmill,Ireland,new,SpinBikes,secondhandfitnessequipment,refurbished,
commercial,treadmill,elliptical,Dublin,ireland