Technogym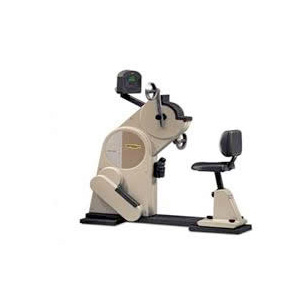 Top XT Upper Body Bike breathes refreshing innovation into the cardiovascular exercise sector. Providing a totally comprehensive exercise movement for the muscle groups in the shoulders, arms and chest it is sure to inspire total fitness enthusiasts. the the Technogym Top XT Bike assures top physical fitness even for those users who can only dedicate a limited amount of time to their training.
Technogym CPR™, training profiles, tests and manual training routines enable each individual to have the correct and effective exercise programme  and Technogym Top XT is absolutely ideal for those users with impairment of the legs or for athletes with leg injuries who wish to continue with cardiovascular training.
Technogym Top XT Features
Pre-Owned Technogym
Excellent shoulder, arm & chest workout
Comfortable seat position
Various pre designed programs
Excellent for people with impairment of the legs & leg injuries
Technogym CPR system –your heart rate controls the resistance
Dimensions 55 (149cm) x 64 (165cm) x 29 (74cm) Weight 98kg
Questions? Enquiries?
Page keywords
exercise bikes,fitness equipment,ireland,gym equipment,Technogym bike,
Technogym Equipment ireland, Technogym Fitness Equipment,
Technogym Ireland,Gym Bike,Fitness Bikes,Gym Equipment,Commercial Gym Bikes