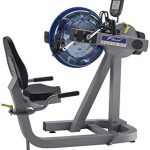 The new, unique and technologically advanced E-720 Fluid Cycle XT by First Degree Fitness is one of a family of superb exercise machines that has revolutionized the way people exercise all over the World. This First Degree Fluid Cycle is a fabulous exercise machine that effectively engages almost every muscles in the human body.
The brief for our design engineers was to research all aspects of user interface with all machines in our range. Every potential improvement was identified and incorporated into the new Evolution Series. The results speak for themselves.
Key Features
20 level patented Variable Fluid Resistance
Dual function, upper & lower body ergometer
Dual use pedal/hand grip (patent applied)
Operates in forward & reverse directions
Counter balanced main arm rotates through 360 degrees
Low seat height – 54cm (21″) swivels for ease of access
Interactive Performance Monitor
Contoured "soft touch" seat with lumbar support
Heart rate reception built in
Compact footprint
For more information visit www.fluid-rower.com
Questions? Enquiries?