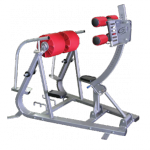 P/O, A High Performance is what Nautilus commercial products are all about. This Nautilus Glute Ham Machine is a well designed piece of equipment. The adjustable foot support is adjustable both vertically and horizontally. The horizontal position can be adjusted with foot – while your still on the machine. Vertical adjustment is in a curved path to match the legs swing of the user. can also be used as a reverse hyper extension.
                                                                                                                                                                                                                                                                                                                                                                                                                                    Dimensions:
66″L x 52″ W x 61″ H

168 L x 131 W x 155 H
FOR MORE INFORMATION OR A BROCHURE ON THIS GREAT NAUTILUS PRODUCT
FILL OUT FORM
Questions? Enquiries?