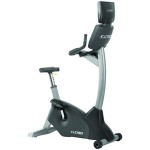 (Our Refurbished Option GUIDE PRICE €700 – €1000) The lowest starting level and the highest resistance. For those who never rode a bike before and those who are preparing for the Olympics, the CYBEX 750C is the perfect exercise bike to train on. The most deconditioned user or rehab patient can use it safely because of the low power input requirement (20 Watts) and it goes up to a massive 900 Watts, All possible because of the CYBEX self-tensioning drive. Belt tension is important because a lot of belt tension is needed to create a high power training tool. But… belt tension creates drag that can drive up heart rate for beginner cyclists. The answer is the CYBEX self-tensioning drive.

Cybex have thought of a lot of details that both users and owners appreciate. Multi-position design of handle bars accommodates riding styles from upright to aero with two sets of contact heart rate grips so HR can be monitored in any position. The optional Personal Entertainment Monitor with iPod compatibility turns itself off to save energy and prolong monitor life. And … the CYBEX bike has wheels in the front – so it can be moved around whenever the floor design is changed.
For low maintenance. With a welded frame made from forged steel, the CYBEX 750 bikes have a three piece heavy duty mountain bike crank that makes them durable enough for rugged mountain terrain. In a gym setting, this construction translates to low low maintenance. And … CYBEX engineers even designed the enclosures so that sweat is directed away from the bike mechanism.
Specification
750C Upright bike; 750R Recumbent bike
750C: 122 cm × 58 cm × 155 cm
bike Mode, Constant Power, Isokinetic
Minimum – 20 Watts for self powered; Maximum – 900 Watts
Single stage drive with self-tensioning idlers for minimal mechanical drag and low maintenance
181 kg
Self-powered, optional AC adapter for full time display
Graphic display of profile via 10 × 15 LeD. Upper display may scan or select between distance,
calories, calories/hour, MeTs, watts, rpm and heart rate including multi-color indication of heart
rate range; Lower display shows time, speed and level
bike Mode: Quick Start & Manual; Constant Power: Nine programs (21 levels each & Heart Rate
Control). Advanced Function: Manual Isokinetic Mode, Manual Constant Power Mode, yMCA
Fitness Test & Nine custom programs
Contact and PolarR Wireless
Dual CSAFe RJ-45 Connector (FitlinxxR Level 3 Pending)
eTL Listed to UL1647, ASTM, eN 957, Ce Low Voltage Directive, FCC Class b
Available in five standard or a virtually unlimited variety of custom frame
colors with gray enclosures
Product
Questions? Enquiries?