(Our Refurbished option GUIDE PRICE €1800 – €2300)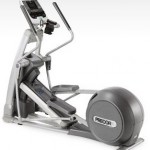 The Commercial Gym Grade Elliptical Cross Trainer is the most popular new form of cardiovascular exercise in fitness facilities today. Introduced by Precor USA fitness equipment, it features a no-impact, forward or reverse elliptical stride that lets your members adjust ramp and resistance for cross training benefits. On the 576, you stride smoothly while holding the handrails or moving your arms in natural sync, with or without hand weights.
The exclusive, electronically adjustable Cross Ramp™ lets you change the slope of the stride with the touch of a key to vary muscle emphasis. Studies confirm that the 576 provides excellent aerobic conditioning, muscle involvement, and range of motion. Best of all, exercisers report lower rates of perceived exertion* on the 556 than on traditional machines. This means that the 576 encourages exercisers to work out harder and more productively.Fitness equipment by precor fitness elliptical cross trainer
Gym Equipment Ireland .ie – Dublin, Rep. of Ireland

–                                                   
Presents How to use Precor Video from U.S.A Based company 24 Hour Fitness
QUESTIONS ? – PHONE THE G.E.I SALES TEAM –

Phone – 00353858426201
Precor Elliptical Features
P/O
Biomechanical Benefits: 40% more gluttial involvement than traditional machines Exceptional hip flexion and extension, knee range of motion Body position minimizes potential for aggravation of knee injuries Reverse motion emphasizes hamstrings; forward, glutesl 576 users had lower rates of perceived exertion (RPE) than with other exercise modalities 576 provides a sufficient metabolic challenge for development and maintenance of cardiovascular fitness More calories are burned with reverse motion at a given speed and resistance Precor electronic displays are well-recognized as the most straightforward and user-friendly in the industry. The 576 console communicates the machine's effectiveness and range of capabilities as easily to your new members as to your 576 "veterans." And with the new Cross Ramp Indicator, members understand at a glance that the 576 offers highly effective, easily customized options.
Cross Ramp™ Indicator is a unique, lighted display feature on the console which shows users the muscles being targeted during Elliptical Fitness Cross training. Smart Touch Key Pad Technology adds ease to controlling and monitoring your workout by incorporating soft-touch technology, 10 numeric keys, intuitive keystroke sequencing, and multiple feedback options. Large LED's and accompanying graphics are combined for exceptional clarity and user-friendliness. Smart Rate™ is a color indicator which shows when the user's heart rate is above, below, or within the user's ideal weight loss or cardiovascular training zones. To activate the Smart Rate, the Precor heart rate chest strap must be used (installation of heart rate option kit required). Quick Start™ places the user in the Manual course with the push of a single key.Precor  GYM EQUIPMENT  is by far one of the world top brands
Dimensions
Length 78.0″ (198cm)
Base Width 30.0″ (76cm)
Height 64″ (164cm)
Weight 220lbs (100kg)
Power: Cordless
Questions? Enquiries?