The Life Fitness 9500 Rear Drive Cross Trainer is one of the top elliptical choices for the world's top facilities: from high-traffic health clubs to the armed forces and athletic training centres.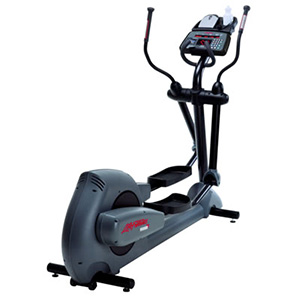 The Life Fitness 9500HR model features the exclusive Lifepulse™ digital heart rate monitoring system–the most accurate way to calculate individual heartbeats. This Life Fitness total body Cross-Trainer combines the cardiovascular/muscular benefits of running and the low impact of walking.
Life Fitness 9500 Elliptical Features
Cost-effective and convenient.
Work large groups of upper and lower body muscles at the same time.
Alternate between forward and backward motion for total body results.
Life Fitness Lifepulse™ digital monitoring system is nearly as accurate as a clinical EKG.
Polar® telemetry monitoring system.
Consol Feedback
Exercise Fitness Programmes
Heart Rate Control
Life Heart Rate Monitoring
Power Supply
Resistance Levels
Resistance Fitness System
Dimensions: Length 80″ (205cm) Width 27″ (63cm) Height 62″ (160cm )
106kg weight
Questions? Enquiries?
Page Keywords – Crosstrainer Ireland,Cross TrainerIreland,Life fitness, fitness equipment, crosstrainer,elliptical, Gym Equipment,Treadmill,Ireland,new,SpinBikes,secondhandfitnessequipment,refurbished,commrcial,treadmill,elliptical,Dublin,ireland,life fitness gym equipment