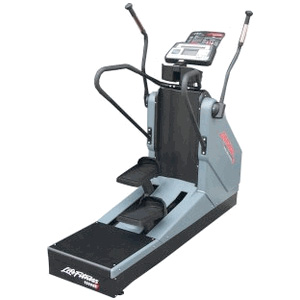 The Cross-Trainer- Total Body System gives you the total body workout you're asking for. No matter what your size or shape. Users will work more muscles in less time and at a lower perceived exertion. The total body or lower body-only exercise offers more variety to keep you interested and motivated.populer gym equipment for sale by life fitness Crosstrainers.
Features
Pre-Owned
Our exclusive Fat Burn and Cardio interactive programs respond to each user's heart rate, automatically adjusting the resistance level to keep each user at their target heart rate. Heart rate is monitored by our patented digital Lifepulse sensors (Total Body System) or with the built-in Polar telemetry receiver.
Users will never again over and under train, for a better exercise experience that will keep them coming back. Cross training aerobics and Cross training reverse programs give you a motivating workout. Throughout your workout, users are prompted to emphasize pushing, pulling, total body, lower body, speed changes and forward/reverse for maximum results. It's like having a personal trainer, motivating users and eliminating the boredom that discourages some exercisers. The smooth, fluid motion virtually eliminates impact to the knees, hips, lower back and ankles. And biomechanically correct hand/feet positions stop "cheating" while safely providing the benefits of weight-bearing exercise through a motion that is easy and comfortable as walking.
Key Features: Appeals to all exercisers, whatever their fitness level is. Smooth, fluid motion minimizes impact to knees, ankles, hips and lower back Total body workout uses more muscles with less perceived exertion than lower body-only exercise Forward/reverse motion targets muscle groups in a variety of ways Synchronized arm and leg motion makes it easy to learn and enjoyable to use Large character message center simplifies programming so exercisers get started quickly.
Advantages: Lower Body & Arms
Elevation: Fixed
Resistance: 20 Levels
9 Pre-programmed Courses
Dimensions: 76″ (190cm) L x 28″ (65cm) W x 70″ (180cm)H
Max user weight 300lbs
Weight: 365 Lbs
Questions? Enquiries?
Page Keywords
Life Fitness Gym Equipment,Treadmill,Ireland,new,SpinBikes,fitness equipment,
refurbished,commrcial,treadmills,elliptical,Dublin,ireland,commercial Gym Equipment