Pre-Owned Nautilus Commercial gym equipme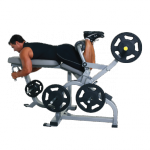 nt is the best selling strength kit in the world. the biomechanics and design is second to none. this Plate loaded Prone Leg Curl is well manufactured with the user positioning always at the forefront of the design making sure to MAXIMISE results. The bench pad keeps the hips raised to ensure FULL hamstring contraction! Read more to fill out our form to recieve full brochure on this great product. Welltech has a full selection of Nautilus commercial gym equipment.

Dimensions
78″ x 45″W x 31″ H
197L x 113W x 78 H (cm)
To Request our full range of Nautilus Commercial Products please fill out form below
or phone us on 01 4670487
Questions? Enquiries?
commercial gym equipment, prone leg curl, leg machine, leg curl, plate loaded