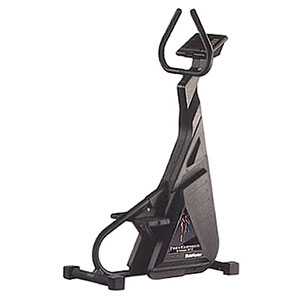 The Stairmaster 4400CL is a cordless unit and features new easy-grip upper-body handles which provide maximum user comfort to accommodate a wide range of fitness levels. Contact heart rate, integrated right into the upper handlebars and is easily accessible runs the units heart rate training program.
One-piece soft pedals offer the ultimate in stepping comfort
Patented, independent pedal geometry with four-bar linkage ensures safe, biomechanically correct movement
Ergonomically designed handrails accommodate a wide range of users
The FreeClimber 4400 models are backed by 17 years of proven performance and name recognition Speeds range from 26 to 174 steps per minute
StairMaster 4400 Stepper features
Pre-Owned – Used Gym Equipment
Upright rail-less configuration encourages an improved exercise posture for the best lower-body workout of any climbing machine.
Patented, independent pedal geometry ensures safe, biomechanical correct movement.
New computer console motivates you during your workout with different program options and workout statistics.
Speed control buttons allow you to increase or decrease the intensity of stepping action at any time during your workout.
Space-saving design fits in less than 2'x 4′ of floor space.
Electronically controlled brake precisely controls the pedal descent from 26 to 174 steps- Includes Polar Heart Rate monitor capability.
9 programs including; Quick Start, Manual, Fat Burner, Calorie Burner, Speed Intervals, Heart Rate Zone Trainer Fitness Test(s)
Dimensions: L44" x W22" x H69" Weight 126lbs
Questions? Enquiries?