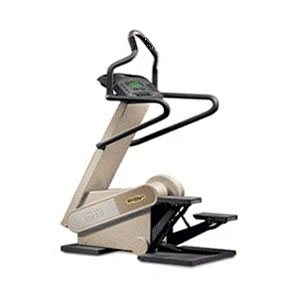 Introducing the Technogym Step XT, training on stair stepper has become increasingly popular in fitness clubs in the Ireland. The Technogym stepper is appealing to everyone who wants to get their gluteus and thighs in trim tight shape, while enjoying an excellent cardiovascular workout.
The Technogym Step XT is set apart by its straight forward and highly visible display screen provides a continuous readout of all the different training parameters. The Technogym stepper also features special independent foot movement. By bringing balance and coordination into the exercise, this considerably increases user involvement, making training far more enjoyable.
The different training modes available with the Technogym CPR System make it easy to program the machine, to maintain a steady heart rate throughout the exercise session.second hand gym equipment
Technogym Step XT Features
Pre-Owned
Dimensions L1.30m x W0.64m x H1.76m Weight 103kg
Targets all lower body muscles
Independent foot movement
Various pre designed programmes Polar heart rate compatible
Technogym CPR system-your heart rate controls the resistance
Dimensions: Shipping Weight: 285lbs. Shipping Dimensions: 60 " x 34″ x 64″
Questions? Enquiries?
Keywords – second hand gym equipment