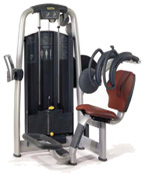 Technogym is a world leader in the manufacture and marketing of durable gym equipment, Technogym is well designed and biomechanically precise fitness equipment – Technogym Treadmills and gym equipment are suitable for users of all ages and fitness levels. Technogym  machines are currently used by over 15,000,000 people, around the globe, every day.Technogym supply a full range of Commercial fitness equipment, and also work with fitness centre partners to maximise the return on their investment.
These units can be refurbished to almost new, with a choice Company Logo choice upholstery and colours. Complete Gym Range or individually to include:
Chest press
Shoulder press
PecFly-Rear Delt
Lat pull down
Seated row
Leg press
Leg extension
Leg curl
Abductor
Assisted dip+chin
Arm curl
Arm extension
Questions? Enquiries?