P/O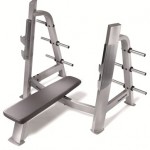 Bench Press by Nautilus Commercial is truly the market leader when it comes to bench press design and durability. Nautilus® Olympic Benches, Squat Rack handles over 600 pounds of plate storage. The brushed chrome-plated (5/16″ thick) bar holders contain two catch positions, and accommodate Olympic bars. The vertical bar catches for easier racking to accommodate weight lifted up to 700 pounds.

The Nautilus® Commercial Free Weight line uses 11-gauge steel frame tubes to incorporate a new, softer curved profile for a strong, modern look. Pivot points use durable bronze bushings, along with a 3-point base design which results in a self-leveling bench.
About Nautilus Free Weights
Nautilus® Free Weights feature high-quality materials, including 11-gauge steel tubing (with a tensile strength of 47,000 psi), nylon-coated cables (rated at eight times the actual load) and Efson® molded nylon pulleys, all to assure long equipment life. You will appreciate their easy-to-clean, powder-coated finish, sturdy Boltaflex® upholstery and 12-gauge stainless steel crash guards to protect surfaces from dents and scratches. Each piece also comes with zinc-plated weight horns that hold a wide range of plates, trumpet horn molded nylon racking pegs and molded rubber foot pads to add stability and protect floors.
Key features of Nautilus® Free Weights fitness equipment:
Functional design on bent steel frames is highly adjustable and adaptable to the user's individual workout requirements.
"On board" plate storage maximizes floor space without compromising durability.
Asthetically pleasing, modern ergonomic design and structural integrity are ensured by highest-grade machined parts and 11-gauge frame tubes.
Bench Press from Nautilus now available in Ireland
Specification
Height 52″/132 cm
Length 66.5″/168.9 cm
Width 69″/175.3 cm
Machine Weight 236.5 lbs/107.3 kg
Questions? Enquiries?